Come work at MHS!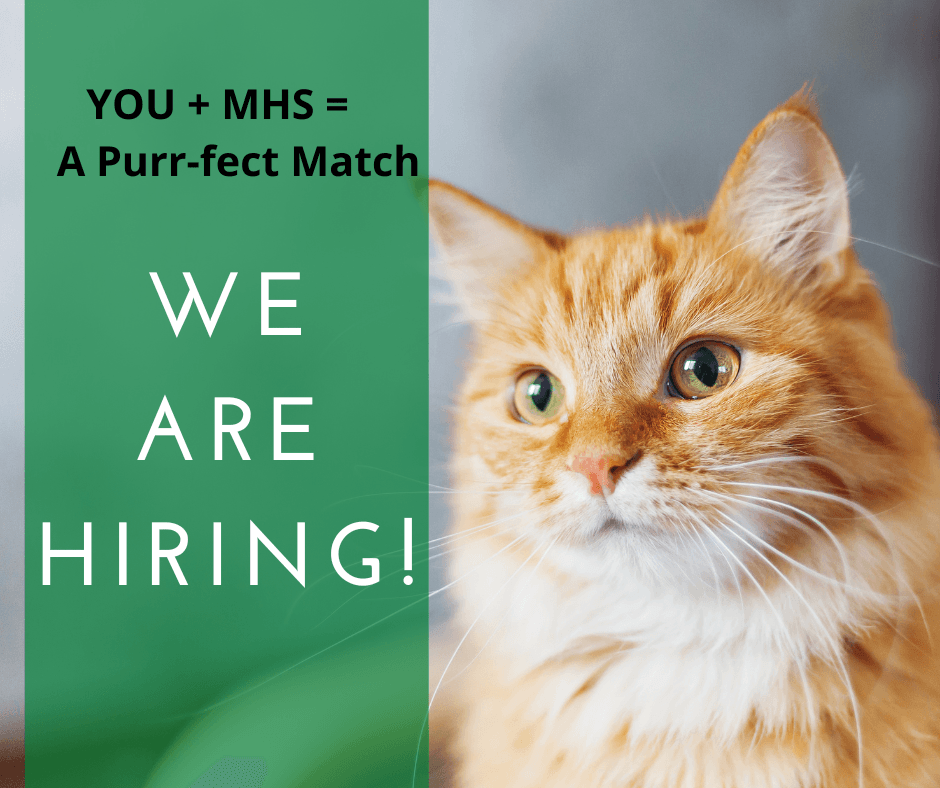 Midlands Humane Society is a great place to work.  When job openings arise, they might be for working with animals one on one as an Animal Care Technician or working with the public and animals as a Customer Care and Adoption Counselor.
Would you love to work with animals?  Does it sound amazing to help them get and stay healthy as they search for their forever homes?  You may want to consider a job as an Animal Care Technician.  Each day you get to work one on one and experience lots of 'hands-on' time with cats, dogs and small critters. 
Are you a people person, but also enjoy being around animals?  Consider applying to become a Customer Care Representative and Adoption Counselor.
When positions are available, the descriptions will be listed here.  If you don't see anything below the line; we don't currently have any positions available.
---
Animal Care Technician
The animal care shelter technician is responsible for the daily maintenance and care of the animals and animal areas of the shelter. The specialist must have a love of animals and be willing to provide maximum care services to our animal clientele

Principal Duties
Perform daily sanitation of dog kennels and cattery areas according to the Midlands Humane Society policies and procedures

General cleaning including, but not limited to, laundry, mopping, and dishes

 Assure all animals are cared for regarding food, water, bedding and appropriate living conditions

 Humane and safe animal handling

 Retrieval of animals for owner reclaims

 Record and report any behavior and medical observations

 Record and report problems with animals or the building

 Other duties as assigned

 Reports to the Shelter Manager
Essential Qualifications
High school diploma or GED

Must be 18 years or older 

Use of all extremities

Ability to lift 50 pounds unassisted

Good coordination

Be comfortable and skilled working with animals

Ability to safely and humanely handle all types of animals

Ability to work around animals without allergic reaction

Affection for animals, concern for their welfare, and a willingness to accommodate animals in the workplace

Must be able to follow direction

Must be able to clearly communicate verbally and in writing
Working Conditions & Hours
This is a 20-25 hours per week position that includes morning, afternoon, weekend, and holiday hours. Schedule does vary.
**Background check and pre-employment drug screen are required. 
Please send your cover letter and resume to jjarrell@midlandshumanesociety.org