Come work at MHS!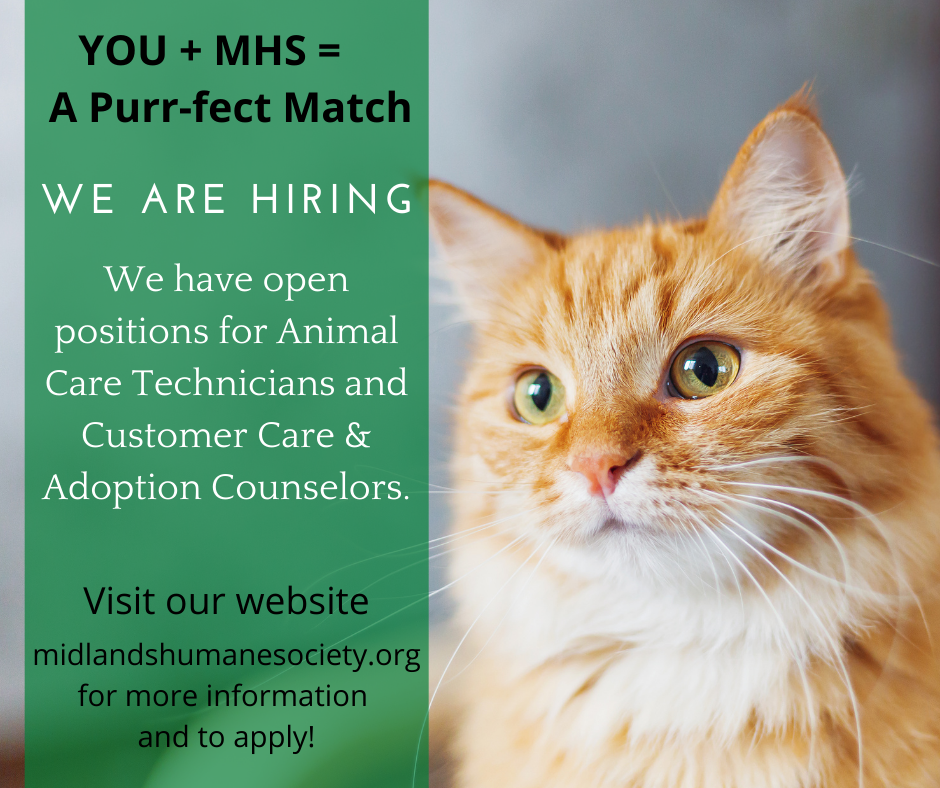 Midlands Humane Society is a great place to work.  When job openings arise, they might be for working with animals one on one as an Animal Care Technician or working with the public and animals as a Customer Care and Adoption Counselor.
Would you love to work with animals?  Does it sound amazing to help them get and stay healthy as they search for their forever homes?  You may want to consider a job as an Animal Care Technician.  Each day you get to work one on one and experience lots of 'hands-on' time with cats, dogs and small critters. 
Are you a people person, but also enjoy being around animals?  Consider applying to become a Customer Care Representative and Adoption Counselor.
When positions are available, the descriptions will be listed here.  If you don't see anything below the line; we don't currently have any positions available.
---
Animal Care Technician
The animal care shelter technician is responsible for the daily maintenance and care of the animals and animal areas of the shelter. The specialist must have a love of animals and be willing to provide maximum care services to our animal clientele
Principal Duties
Perform daily sanitation of dog kennels and cattery areas according to the Midlands Humane Society policies and procedures

General cleaning including, but not limited to, laundry, mopping, and dishes

 Assure all animals are cared for regarding food, water, bedding and appropriate living conditions

 Humane and safe animal handling

 Retrieval of animals for owner reclaims

 Record and report any behavior and medical observations

 Record and report problems with animals or the building

 Other duties as assigned

 Reports to the Shelter Manager
Essential Qualifications
High school diploma or GED

Use of all extremities

Ability to lift 50 pounds unassisted

Good coordination

Be comfortable and skilled working with animals

Ability to safely and humanely handle all types of animals

Ability to work around animals without allergic reaction

Affection for animals, concern for their welfare, and a willingness to accommodate animals in the workplace

Must be able to follow direction

Must be able to clearly communicate verbally and in writing
Working Conditions & Hours
This is a 20-25 hours per week position that includes morning, afternoon, weekend, and holiday hours. Schedule does vary.
Customer Care & Adoption Counselor
The Customer Care Team is responsible for assisting the public in a compassionate and professional manner while being knowledgeable about the MHS mission and services that we provide.
Principal Duties:
Greet, assist, and direct the public in a compassionate and professional manner.

Ability to multitask and provide effective customer service to large numbers of people.

Perform data entry for all customer service activities and other shelter departments as needed.

Reconcile cash, checks, and credit card payments with data entry into the correct system.

Maintain, balance, and reconcile individual daily cash drawers.

Answer shelter phones and provide appropriate information to callers.

Accept monetary and material donations from the public.

Write clear and concise memos, letters, and emails.

Resolve minor customer complaints in person and on the phone.

Record and report behavior and/or medical observations to appropriate departments.

Maintain shelter database and files.

Keep online pet profiles updated.

Meet with potential adopters and finalize adoptions.

Determine best fit matches based on adopter's lifestyle and the pet's personality.

Intake and process all over the counter stray animals and owner surrendered animals that are brought into the humane society.  

Intake and process all over the counter animals brought in from outside agencies, rescues, etc.  

Impound animals back to owners who can provide proof of ownership per individual city ordinances, charging appropriate fees, etc. 

Complete customer Lost and Found reports and walk the public through the stray kennels.  

Perform follow up calls to customers with current Lost/Found reports.

Work closely with other shelter staff to ensure proper handling of all animals and provide quality service to the public.

Assist the public with euthanasia request and be able to provide compassion and knowledge of the Furever Remembered cremation packages.

Engage and train volunteers.

Preform any other duties as may be assigned by the Customer Service Supervisor.
Essential Qualifications:
High school diploma or equivalent

Computer, filing, and general clerical skills.

Proficient in Microsoft Office

Must possess maturity, good judgement, and a professional manner.

Ability to communicate clearly.

Pleasant manner in telephone and personal contacts

Ability to work with animals without allergic reaction.

Ability to handle various animal behaviors confidently.

Effective written and verbal communication skills

Ability to calmly deal with irate or anxious customers.

Ability to be flexible in ever changing conditions.
Working Conditions:
This is a part time, 25-30 hours per week position and schedules may vary depending on the needs of the Midlands Humane Society. Must be willing to work irregular hours including evenings, weekends, and holidays.

High exposure to animals whose reactions to the shelter environment cannot be predicted.  

Frequent movement including but not limited to standing, walking, stooping, carrying heavy loads of up to 50 pounds, movement of cages, and restraining or handling active animals.

Potential exposure to zoonotic diseases and hazardous chemicals

Temperatures in the shelter are varied but usually moderate and dependent on the season.

Must be able to tolerate working in a loud environment.

Emotional demands include but are not limited to compassion fatigue caused by exposure to:

Euthanasia & cremation

Animal abuse & neglect
TO APPLY FOR EITHER POSITION, PLEASE FILL OUT THE REQUIRED FIELDS BELOW ALONG WITH ANY ATTACHMENTS.